Originally posted 3-29-2014
What is Bonsai Block?
Bonsai Block is a lightweight high fired natural looking aggregate with a variety of earth-tones including peach, ash, black, tan and dark grey. Its a great alternative to Akadama.
This aggregate is reasonably priced(15 to 35% less than akadama), is available in both 1/8th or ¼ inch sizes and does not have a machined look as found with other fired clays.
This is a hard aggregate similar to lava that can be reclaimed for reuse.
This aggregate is similar to haydite but differs in make-up and cosmetics. Here is a photo.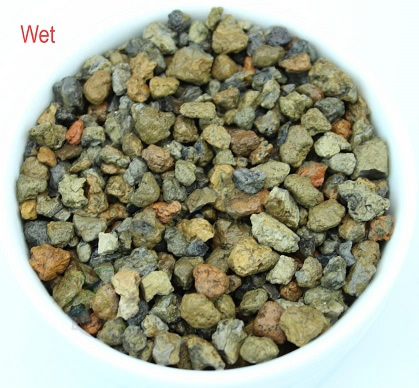 The bonsai soil combinations are limitless. We will be using Pumice, BonsaiBlock and Pine Bark Fines for our tropicals.
Will this aggregate work for you? That's for you to decide. We can only provide the technicals as seen below…
PH Level
¼ BonsaiBlock 8.63

¼ Maroon lava 9.22

¼ Black lava 9.94

¼ Pumice 8.63

Turface 4.41
Water Saturation
24 hours(increase in weight)
¼ BonsaiBlock 20.1%

¼ Maroon Lava 22.4
%

¼ Black lava 11.3%

¼ Pumice 16.5%

Turface 44.0
%
Bulk Density(ounces
per cubic inch)
¼ BonsaiBlock .403

¼ Maroon Lava .394

¼ Black lava .470

¼ Pumice .370

Turface .385
Evaporation Rate 24 hours
¼ BonsaiBlock 5.5% decrease by weight

¼ Maroon lava 9.5% decrease by weight

¼ Black lava 7.1% decrease by weight

¼ Pumice 9.5% decrease by weight

Turface

6

.4% decrease by weight
Additional
Evaporation Rate, hour 25-48
¼ BonsaiBlock 4.8%
decrease by weight
¼ Maroon lava 4.8%
decrease by weight
¼ Black lava 2.4%
decrease by weight
¼ Pumice 4.9%
decrease by weight
Turface 3.9%
decrease by weight
As you can see Turface is the worst offender when it comes to water retention and release. It will increase in weight 44 percent when absorbing but only release 10.3%(6.4+3.9) by weight over a 48 hour drying time at 41 percent humidity.
In my opinion. A good aggregate will absorb water and release it at a decent clip. Excessive water retention can lead to root rot. Turface is probably best left for potted plants that will receive water once a week. We will not get into the other issues of turface such as drainage. In the defense of turface it can probably be used in small amounts, maybe 10-20 percent of a soils make-up. I will not be using turface on my trees.
All other aggregates have an acceptable water release rate.
The best performer in this test is pumice. Pumice is a good replacement for turface. Its quick to absorb and release moisture.
PH levels are pretty much the same on all aggregates with the exception of Turface.
I trust you find this report informative. Feedback, good or bad is appreciated.
Thanks for viewing and for your continued support.
Please note. Only sections of these tests were performed
by an official lab. The report may contains errors. These tests were performed
on only a small fraction of aggregate. You will find slight variations in other
samples. Other factors such as variance should be considered. Example: Turface
which has a PH level ranging from 4.0 to 8.0 according to the manufacturer.