Frequently Asked
Questions
How much soil do I need?
Use the SOIL CALCULATOR to determine
the amount of soil you need.

MONEY SAVING TIP: If you have an especially deep container and
do not expect your succulent / cactus roots to penetrate to the bottom you can
use a drainage layer as fill. Bagged lava rock can be purchased for about 5
dollars at your local big box store. This can be used to fill the lower section
of the container. Example; If you expect your roots to penetrate 2 inches of a
10 inch deep container then you only need to fill the top half with about 5
inches of soil. The lower section can be drainage layer material.
Where can i find a Bonsai Nursery, Club or Dealer?
Use the Dealer Locator map to find a group near you.

How long will it take for my Free Shipping order to arrive?
Orders less than 3.5 gallons will usually arrive within 2-4 business days via USPS. Most orders above 3.5 gallons are shipped via UPS Ground and take 1-7 business days to arrive. See the UPS map below for detailed transit times to your location.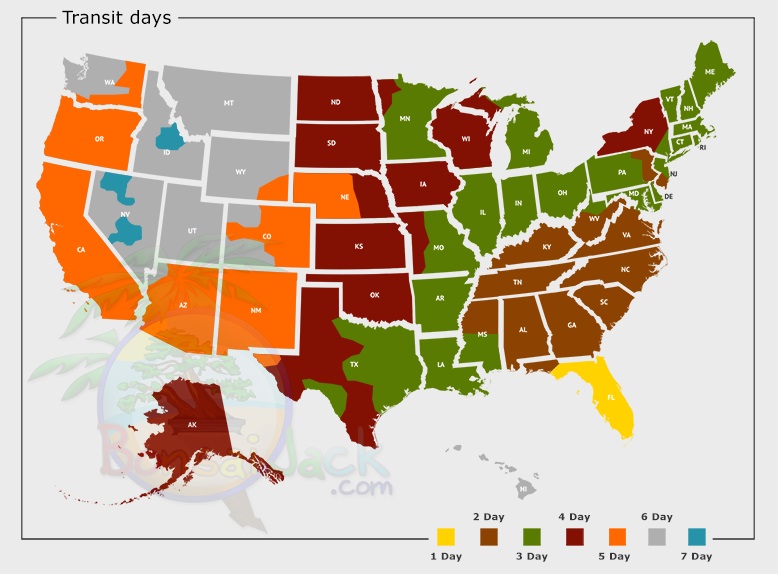 Do you ship international orders?
Yes. We have shipped orders to over ten thousand artists in over 40 countries. Shipping options are available at checkout.
How will my order ship?
In general, soil orders ship via UPS Ground(1-7 day free service) or USPS Priority mail (2-4 day pay service). Most other products will ship via first class mail(3-7 day service) unless expedited shipping is purchased. Lime sulfur cannot be shipped via expedited service due to federal regulation.
What is your product review policy?
Click HERE for details.
I live in Alaska. It's been three days. Where is my order?
Anchorage is 5882 miles from our location. Ground service to Alaska can take up to 14 days. Priority mail can take up to 7 days. USPS service times are an estimate, not a guarantee. Please be patient. Guaranteed overnight or two day service is available via UPS for a fee. You can view additional shipping options at checkout.
How fast do you ship?
97 percent of orders ship within 24 hours. 99.5 percent of all order under $30 ship within 24 hours. Most delays are due to large orders during and weather events.
Where do i access the Terms of Service and Privacy Policy?
Our Terms of Service are located HERE. Our privacy Policy is located HERE.
Is this site secure?
Yes. The website uses an EV-SSL. This is different than a standard SSL. This means we have gone through an extra validation process to ensure a secure checkout. Click HERE to see the list of requirements.
Are you hiring?
Possibly. Send your resume to [email protected] or fill out THIS application.
Do I remove all of the old soil when repotting succulents?
Its best to rinse the old soil off before moving to the new soil. Having a plant in two soil types can confuse the root system because parts of the container will dry out before other parts.
A full repot is not always an option when working out of season or preparing the plant for an event. We only repot during the winter months as a last resort. Its best to wait until the hottest months of the year. Some growers will "slip pot"  during the winter months(out of season),  in preparation for an event or for root bound material. Slip potting is the process of sliding the root ball, soil and all, into a new container and surrounding it with new soil. This creates immediate stability for events and or relieves some of the stress on root bound material until a full repot can be done. Slip potting is not recommended for long term care. The best option is to fully repot and let the plant fully recover before disturbing it.
How do I get rid of Gnats on my succulents.
Gnats and root rot are common problems with many store bought peat based succulent soils. These products are produced for pennies per bag using recycled organic material rich with pathogens. It's important to let the soil dry out before watering. This can be difficult if the soil contains peat or other heavy organic matter. It is best to use high quality succulent soil, like our Succulent Soil 111 gritty mix, which allows the soil to fully dry out between watering.
Once replanted in a high quality mix they will have a chance to dry out because of the larger particle size of our soil. Water the plant well one time and let it dry out for 3-7 days before watering again. You should see an immediate improvement with your gnat problem.
Another option is bifenthrin. This product can be found at your local hardware store under several brand names. Try and buy the smallest bottle available to prevent waste. A little bit of this product goes a long way. We drench our plants every 6 months with bifenthrin to prevent gnats and other pests from making a home. Drenching is the process of using a watered down version of bifenthrin to water your plants to 1/5th of the volume. Example: a 5 quart container will get 1 quart of the bifenthrin mix.
How often to do water succulents?
When the soil is completely dry. This can vary from 1-7 days depending on your local environment.
How do i tell if the soil is dry?
Color. Wet soil is darker in color. Dry soil is lighter. The top layer of soil will always appear dry. If the top layer of soil matches the under layer in color then it's probably time to add water. Monto Clay, one of the three ingredients in your mix, change from light brown to a reddish dark brown color when wet. Below is a photo of wet and dry Monto Clay. If dry then its time to add water.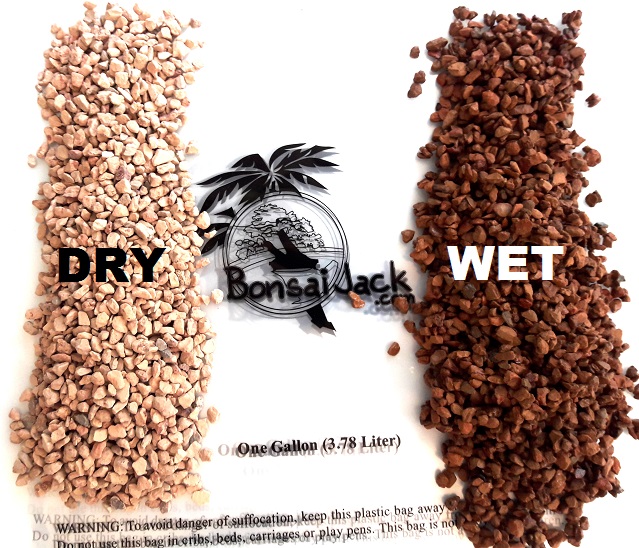 Is the soil ready to use as is or do I need to add other ingredients?
Using an ultra premium soil can be a bit of a learning curve. Our soil products do not look like traditional potting soil. This is by design. All of our soil mixes are ready to use as is. You do not need to add other ingredients. Adding low quality peat based product to our fast draining soil will defeat the fast draining design and can cause root damage to your plant. Adding a low quality "dirt" to the soil will also introduce pathogens. Our soils have been extensively tested by laboratories and growers for the intended application. You can find more information by reading the full FAQ.
Do you have a dealer program?
Sort of. We co-pack custom blends for dealers. We also sell unbranded versions of our products to other companies. If you are interested in becoming a dealer please visit BonsaiJack.net